Anet A8 Desktop 3D Printer Prusa i3 DIY Kit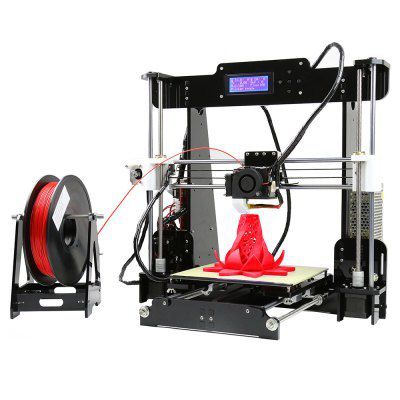 Hello guys welcome to the gearbest.com blog I'm Roman from gearbest.com blog staff today I will give you some information about the ANET A8 DESKTOP 3D PRINTER PRUSA I3 DIY.
The 3d are actually the dream of the startup and others companies they can provide some projects directly without to build in 1/1 size for a disappointing result.
Here you can use this to build some samples of your products take them to your booth and present them to your customers for example.
That is a very quick and easy way to get samples of yours products, I will give you some information about this item and don't forget your coupon code below in this post!
Engineered to provide redefined usability, quality, performance
● Made from piano-black laser-cut acrylic frame. To maintain the garage-built feel and the handmade charm
● It is unassembled DIY kit, provide you an unforgettable step-by-step learning experience of 3D printer from scratch. As long as you have a passion for creativity, you can not afford to miss this product
● Suitable for a wide range of customers, young or old, professional or amateur etc.
● Multiple 3D printing filament supportable, support ABS / PLA / Wood / Nylon PVA / PP / Luminescent
● 220 x 220 x 240mm printing volume, just right for you
● All metal pulleys for improved functionality and performance
● Quick-release feed gears for faster and fluent filament feeding
● High printing precision, stainless steel rail rods, gears, bearings and connectors for smoother movement
● Operating system: Windows XP / Windows 7 / Windows 8 / Mac / Linux
● Working environment: Temperature: 10 - 30 Deg.C, humidity: 20 - 50 Deg.C
Here you can have your coupon code : GB3DA8
You can buy this item here :
http://m.gearbest.com/3d-printers-3d-printer-kits/pp_337314.html?lkid=10239140