ILIFE V7S Smart Robotic Vacuum Cleaner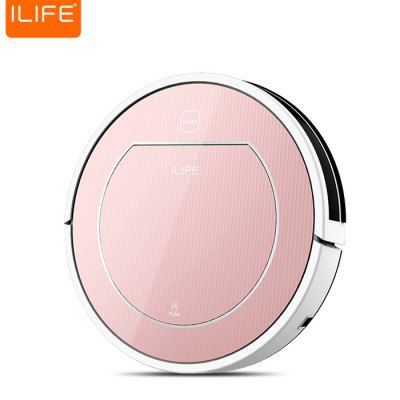 Hello guys welcome to the gearbest.com blog I'm Roman from gearbest.com blog staff today I will give you some information about the ILIFE V7S SMART ROBOTIC VACUUM CLEANER!
If you have already think about it some brands has make your dreams come true to give you the opportunity to have the best comfort to clean your home in team with a little robot to help you to have the most important zone of your home!
Let start first with some specs from ILIFE and gearbest.com :
Intelligent drop avoidance induction
IR sensors at the bottom detect the high gap, avoid the dropping, it will avoid the obstacles and change direction automatically by inductor.
• Professional anti-collision system
It can better protect the furniture.
• Wet and dry optional
When using dust storage tank box, it becomes a sweeper, when using water storage tank box, it becomes a mop. Wet and dry cleaning ways for your optional.
• Large water tank
450ml water storage tank, detachable water holes, long working time to use per time.
• 4 kinds of cleaning modes
Automatic cleaning modes, border cleaning modes, concentration cleaning modes, reservation cleaning modes.
• Easy to deal with a variety of environments
Whether it is confetti debris, cigarette butts and ash, or beans and seeds shell, it is easy for you to clean them up. Suitable for floor, cement, ceramic tile, wooden floor, undercoat carpet, etc..
• Automatic self recharge
When the power is about to run out, the sweeper can back to recharge with IR induction.
• Less than 60dB low noise mute
Easy to help you solve the noise problem, you can sleep while cleaning.
• Dual filter dust box
Roughing filter and HEPA filter make it filtering all kinds of dust efficiently.
• 8cm slim design
Enable this cleaner working in the narrow space, it is possible to clean the bottom of furniture and corner.
• Dust box capacity: 500ml.
• Water storage tank capacity: 450ml.
• Remote control distance: About 4 meters.
• Charging time: About 300 minutes.
• Working time: About 140 minutes.
• Cleaning coverage: About 80 - 220 square meters.
• The remote controller is powered by 2 x AAA batteries ( included ).
You can see on the actual specs lot of functionality are very important and the others are helpful, that is a very good product for all of us!
If you are interested by this item gearbest.com give you opportunity to get a coupon code for this product it's just below in this post!
The ILIFE coupon code : ILIFEV7S
Here you can buy it : http://m.gearbest.com/vacuum-cleaner/pp_360002.html?lkid=10239110