Happy New Gear | Price crash into 2017
2016 has been a truly epic year of joy, surprises and even tears (of happiness). But as we count down to a shiny new 2017, it's time to get the party started early with our biggest ever New Year Sale.

The Year of the Deal
New Year Gift: We're bidding goodbye to 2016, so it's time to ring in the new. To celebrate, log in to your account and claim your awesome New Year Gift, courtesy of GearBest.

2017 Flash Deals: And once 2017 starts, the sale really kicks off with stunning deals with prices melting faster than snow in a desert. They're filled to the brim with fantastic deals on bestsellers.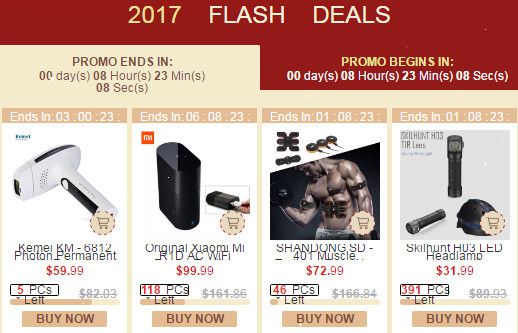 2017 Top 8 Deals: Nobody has a crystal ball telling them what the next year will bring, but we can guarantee that these bargains are happening right now. Featuring major brand name discounts (at up to 70% OFF).

Save Till You Drop
New Year Brands: Enjoy tons of the hottest brands, the most exciting global brands in the world right now, and up-and-coming brands literally taking the market by (price) storm, including ZAN.STYLE and Alfawise. So whether you're looking for some cool winter fashion (his and hers) or just want to geek out on tech this season, we have everything you need.

Deal Zone: For those who want more for even less, we've got you covered too. Our special Deal Zone is split into four affordable price brackets: $0.99, $2.99, $5.99, and $9.99. We're confident you'll find something cool at an ice-cool price.
New Year Categories Sale: Oops, we did it again. Prices have been slashed to ribbons, folks. Enjoy ridiculous discounts across our 16 most popular categories.
Happiness Zone: What's this? It's only all of our biggest promotions on right now. And because New Year is always a massive global event, we have special deals for our valued customers in USA, Russia, EU, and Spain.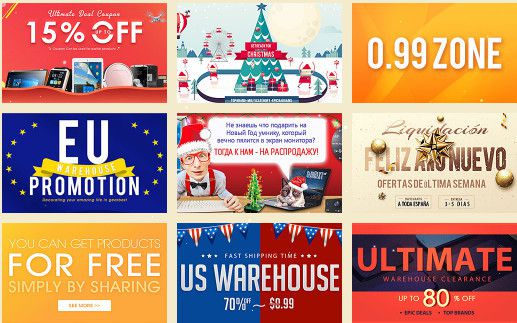 The Best of the Rest


Holiday season also means our ULTIMATE WAREHOUSE CLEARANCE is well underway. Score up to a massive 80% OFF on epic deals and top brands. Generally speaking, our biggest deals will always be during clearance events so there's never been a better time to score crazy bargains.
• Main New Year Sale: Claim your Gift, 2017 Flash Deals, Deal Zone & More
• Ultimate Warehouse Clearance: Up to 80% OFF, Epic Deals & Cool Brands
• January Deal Bonanza: Top Brands, Up to 15% OFF & Ultimate Coupons
Get the party started and start savings, folks! Keep calm and see you all in 2017!

Best Regards,
Gearbest Team