CIVILTOP unveils two budget gaming laptops: G672FB and M651FB
CIVILTOP is an emerging brand from China that was founded in 2008. The company has partnerships with tech giants including NVIDIA, Intel, Microsoft and other world-leading firms. Their flagship CIVILTOP G672FB notebook has been available on the market for some time, and currently enjoys a promotion here on Gearbest. Let's take a closer look at two of their budget-friendly gaming laptops!
Looking first at the sleek body design and impressive build quality, the black/brown CIVILTOP G672FB resembles a cool, mature gentleman while the silver white CIVILTOP M651FB is more like a trendy, young upstart – personally, we loved this style contrast. However, we did have issue with the CIVILTOP M651FB in one aspect: with the logo covered, it's nearly indistinguishable from a MacBook in terms of appearance. Admittedly, it's still an eye-catching design so our reservations are muted.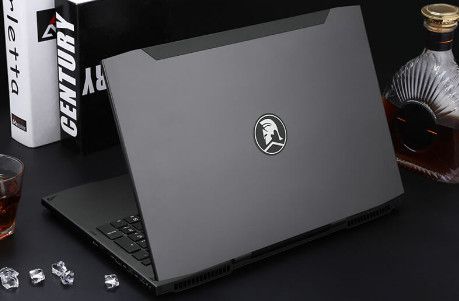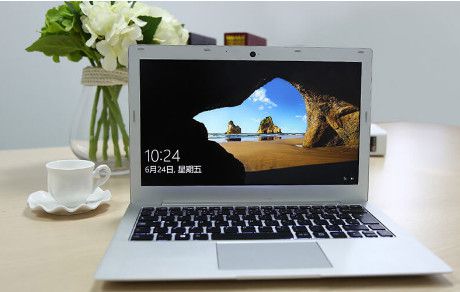 However, for geeks, what really counts is what goes on in the inside, since the design is only skin deep. Let's take a look under the hood to spot the main differences.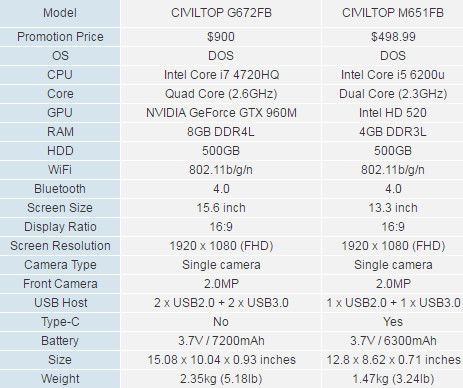 The CIVILTOP G672FB is intended to be a high-end notebook that will deliver flawless performance as soon as it hits the market.
From the table, we can see that both the CIVILTOP G672FB and CIVILTOP M651FB gaming laptops come packed with many affordable feature set – their main differences lies in the CPU, GPU, RAM, interfaces, and the battery capacity.
It features a powerful Intel Core i7 4720HQ Quad-Core CPU (2.6GHz) along with a suitably powerful NVIDIA GeForce GTX 960M GPU, ideal for your gaming and video needs. 8GB of DDR4 RAM make multitasking equally effortless. The battery is no slouch either, coming at a sizeable 7200mAh. Therefore, we consider G672FB to be a solid candidate for both students and workers who require strong productivity and overall performance – it's flexible enough to be a mobile workstation or gaming rig.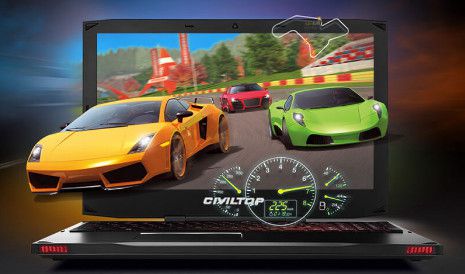 In comparison, the CIVILTOP M651FB is a mid-class gaming laptop that looks disarmingly like a MacBook. Powered by an Intel i5 dual-core 6200u CPU (2.3GHz), it still remains one of the best mobile gaming chips available. With Intel HD 520 1GB integrated graphics and 4GB DDR3L RAM, it delivers great performance for most gaming titles, originally attracting our attention as a budget gaming laptop sporting a distinctly business look.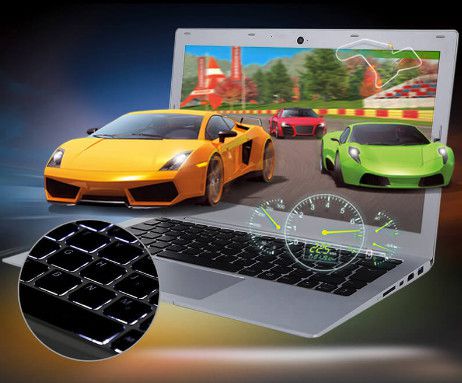 Gearbest is delighted to bring this exclusive offer direct to you. Claim your discount now by entering the promotion code during checkout. For the CIVILTOP G672FB, its promotion code is CIVILTOP with just $900 with coupon" CIVILTOP "($963.99); while for the CIVILTOP M651FB, use coupon: CIVILTOPM651FB, you will get it at the price of $498.99 with coupon " CIVILTOPM651FB "($558.22). Seize the time to snap up since the promotion activity is due on 28th February. Catch the deal now and get a superb notebook for both work and play!